The best walks are along the side of the sea…Therefore, today we want to talk about the camins de ronda of the Costa Brava. Which are the best camins de ronda of the Costa Brava. And which are its best beaches of the Costa Brava near any of those paths. Please continue reading if you want to enjoy of this place as much as we do.
What are the "camins de ronda"?
The "camins de ronda" are paths of the Catalan coast by the sea. Its name was given some years ago, when the guardians used to walk along them to watch for ilegal transport of merchandises, as those paths, being near the sea and along nearly any point of the coast from north to south, were the access to those who dealt with merchandises coming from overseas without wanting to pay for them.
Camins de Ronda of the Costa Brava
We want to suggest you 2 short, easy and accesible excursions for all levels (even for children) that will lead you to any of the most beautiful landscapes of the Costa Brava.
Camí from La Fosca to Castell: 1,5 km. Approx. 22 min.
This route starts on one of the best known beaches of the village of Palamós: the Platja de La Fosca. Once there, we go to the left towards the Castell de Sant Esteve, a castle dated from the XIII century. Past the castle, you will arrive to the "pineda de Gori" (pine forest). From there you have one of the scenaries most photographed of the Costa Brave: S'Alguer, an ancient neighbourhood of fishermen with great charm.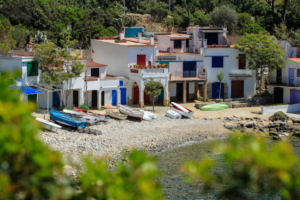 Following the path you will arrive at the end of this route: La Platja Castell, one of the few beaches of the Costa Brava which has managed to survive urbanization.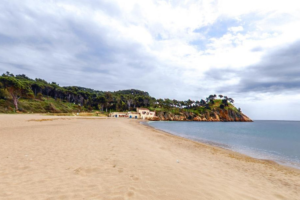 Camí from Calella to Llafranc: 1,5 km. Approx. 20 min.
The "camí de ronda" between Calella de Palafrugell and Llafranc is one of the most beautiful of the Catalan coast.
To get there, you have to go to the platja de Port Bo: to the left you will see the Cap Roig gardens and the Formigues islands; and to the right, the "camí de ronda" that you have to take to start walking. After crossing the beach of Canadell and walk for about approximately 20 minutes, you will arrive at Llafranc.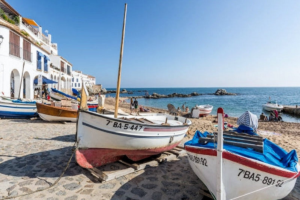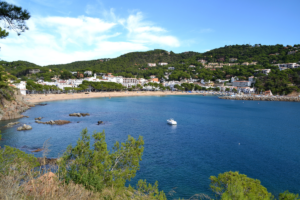 The most brave ones can walk up  to the Far de Sant Sebastià (lighthouse), at 175 m over the sea level, where you will have one of the best views of the Costa Brava' sea.
So, you don't have any excuse! Put on a confortable pair of shoes, a lot of water and start enjoying of these paths with pine and salt water smell and we suggest you from Porcel Advocats.